PRESS RELEASE

Phillip Darnton OBE, the former Chairman of Cycling England, has joined the Board of Challenge for Change.
Phillip will become the new Chairman of the organisation which specialises in designing behavioural change programmes to get more people cycling, walking and using sustainable modes of transport.
Established four years ago Challenge for Change delivers a number of highly effective programmes on behalf of public sector and corporate organisations in the UK and around the world.
Since 2008 more than 63,000 people and 2,800 organisations have participated in their programmes, with more than 19,000 non-cyclists taking to two wheels as a result of Challenge for Change programmes. Research has shown that one in three non-cyclists who participate in Challenge for Change's Workplace Cycle Challenge programme will continue cycling once a week or more after the programme.
Thomas Stokell, Managing Director of Challenge for Change said: "We've gone from strength to strength the last couple of years despite the tough economic environment. Our programmes are highly effective at getting more people cycling and generating measurable results – a valuable commodity in the current climate."
"We've discovered and refined a number of effective approaches to get more people cycling and traveling sustainably. We are continuing to share best practice and are rolling these proven programmes out in new locations. Anyone who knows Phillip will agree that he is the ideal person to work with us take Challenge for Change to the next level and get even more people cycling."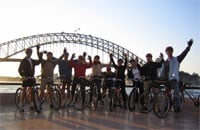 Challenge for Change also run their programmes in New Zealand and Australia and they are currently in discussions with North American and European partners about running projects there as well. In the UK Challenge for Change works in close partnership with the Cyclists' Tour Club (CTC) – the UK's national cyclists organisation.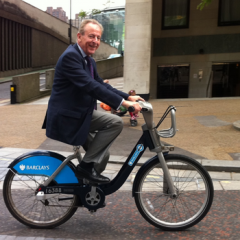 "We are all creatures of habit, and generally like what we know." says Phillip Darnton, "Getting people to change is a complex matter, and much theoretical work has been done by sociologists and psychologists in this field. Challenge for Change is a team of intelligent and thoughtful professionals, highly motivated and with established credentials who are working hard to turn theory into real life practice. Persuading people to take up cycling - even just for 10 minutes - is a key to unlocking our travel change behaviour. I look forward to helping Thomas and his team as they develop their strategy and build on their success to date."
More information on Challenge for Change can be found at: www.challengeforchange.com
ENDS
Challenge for Change specialises in designing behavioural change programmes that get more people cycling, walking and using sustainable modes of transport.
On average 32% of non-cyclists who take part in a Challenge for Change Workplace Challenge will continue cycling once a week or more (as recorded three months after the Challenge).
On average 43% of participants who cycle occasionally before the Challenge start cycling to work at least once a week after the Challenge (as recorded three months after the Challenge).
Phillip Darnton spent 30 years with Unilever plc in senior marketing, general management and global strategy roles. He joined the Board of Reckitt and Colman as Director for Global Marketing in 1996. Between 2000 and 2003 he was the Managing Director and Chairman of Raleigh UK. Phillip joined the National Cycling Strategy Board in 2001; this Board advised the Minister for Transport on policies and actions to increase trips by bike in the UK. In June 2004 he was appointed Chairman of the NCSB. From 2005-2011 he chaired Cycling England, a non-departmental public body funded by the Department for Transport.
For further information please contact:
Thomas Stokell
Managing Director
Challenge for Change
+44 (0) 7984 309 265