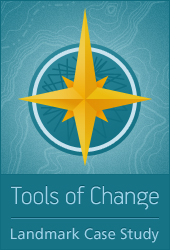 We're thrilled to announce that Love to Ride has received a prestigious award from the Canadian organisation Tools of Change. Our unique behaviour change programme has been designated a Landmark Case Study in recognition of our success in getting more people cycling more often.
Landmark Case Study status is conferred by Tools of Change's peer selection process and the panel – made up of academics and professionals from North America's sustainability sector – were very impressed with Love to Ride's website and our bespoke behaviour change programmes.
Over the last eight years we've been refining and developing our model and mastering the art (and science!) of getting more people riding bikes. Our sophisticated web platform and scalable Workplace Cycle Challenges have engaged over 113,000 people on three continents and we've used our wealth of experience to create the most effective behaviour change model on two wheels.
Our recently revamped, fun and user friendly website identifies the barriers and benefits individuals perceive to riding more often. We use this information to target our communications to suit individual members' needs and map out the behaviour change journey that will help them to overcome their barriers and enjoy the benefits of riding a bike. The panel noted this in the citation, commending the sophistication of our online social marketing techniques and our 'good use of electronic media to reach many people in a tailored way'.
The Landmark award also recognised our passion, commitment and expertise, praising Love to Ride for being 'pragmatic, focused, innovative and creative'. These are the qualities that have pedal-powered our recent rebranding and helped us to master our craft over the last few years.
We've nailed it, now we're going to scale it…
Building on these foundations, we're geared up for 2015 to be our most exciting year yet. We're launching the first Love to Ride Challenge, the UK's National Cycle Challenge. Organisations are invited to compete against each other locally and nationally in a fun, free competition to see who can get the highest proportion of their staff riding bikes. As one of the Tools of Change peer selection panel remarked 'Replicability and adaptability are sky high!'
The Landmark award recognises programmes and approaches considered to be among the most successful, innovative, replicable and adaptable in the world for fostering healthier and more sustainable choices and behaviours. We're proud of our new status and would like to say thanks to Tools of Change for recognising the results of our hard work.
The sky high potential of our model and awards like this are why Love to Ride will roll on into 2015 looking to make it our best and most successful year yet. We're launching the Love to Ride Challenge in the UK and seeking to run Workplace Cycle Challenges in ten US cities, as well as running major projects in Australia and New Zealand. We know that what we do works, wherever in the world we do it, and we can't wait to adapt the Love to Ride model to spread the love as far and wide as possible!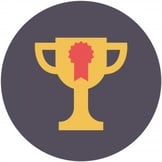 *Tools of Change was launched in January 2000 as a collaborative effort between partners as diverse as the Federation of Canadian Municipalities, Health Canada, the International Institute for Sustainable Development, Environment Canada, and Canada's National Round Table on the Environment and the Economy.
Tools of Change recognises, rewards and encourages methods for the promotion of health, safety and environmental citizenship and is founded on the principles of community-based social marketing. See the full citation here.