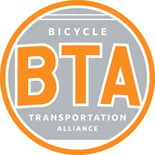 For 2016 the popular Bike More Challenge based in Portland, Oregon will be using the Love to Ride behavior change platform.
The 2016 Bike More Challenge, historically the Bike Commute Challenge, is an annual month long event run by the Bicycle Transportation Alliance with the goal of increasing bike riding in the Portland area and beyond. Since 1998, the Bicycle Transportation Alliance (BTA) has built the Bike More Challenge to be one of the largest and most effective month long bike challenges in the United States. In 2015 they had 1,152 businesses and 10,772 individuals take part in the program.
This Challenge is a perfect match for the Love to Ride platform, which uses behavior change, competition, and gamification to effectively encourage non-bike riders to try riding during a month long challenge (then continue riding) and to encourage existing riders to ride to work.
"The Bicycle Transportation Alliance is very excited to partner with Love to Ride on our 2016 Bike More Challenge. The Love to Ride Platform is packed full of great features that focus on community building, encouragement, goal-setting, and celebrating individual accomplishments with badges and prizes and is truly built for an awesome user experience. We are thrilled to refresh our month long Challenge with this great website and to re-energize our participants and new riders to #bikemore!"- Nicole Davenport, Bike More Challenge Program Manager
CEO and Founder of Love to Ride, Thomas Stokell, is excited about the BTA and Love to Ride partnership. Stokell explains the partnership further, "The BTA and the City of Portland are leaders in the cycling world, and there is a lot of alignment in our goals and mission. Our aim at Love to Ride is to have the best online platform for encouraging more people to discover and starting riding. The BTA have taken the time to really understand what we do, what we offer, and the value we can provide them."
Creating a great user experiences takes a lot of expertise, energy and money. The BTA had previously worked with a website development agency to manage their own challenge platform which they found to be time and resource intensive. "They have now realized that partnering with a world class cycling platform to handle the technology side of the work will allow them to deliver an even better user experience through their Bike More Challenge," says Thomas Stokell
Many new Love to Ride features will be integrated within the 2016 Bike More Challenge including badges, stories, additional app connections (e.g. Strava, Moves, Map My Ride, Endomodo), and year-round behavior change messaging so that the encouragement doesn't end after the Challenge.