This coming September, councils, advocates, cycling organisations and riders across the UK will be working together to give cycling a big push.
Three key aims:
Getting more people to discover how easy and enjoyable riding can be
Getting more people riding for transportation
Collecting GPS data that can be used to make better decisions on where to put cycle infrastructure
We're changing up the format this year
The Challenge will involve organisations, their departments, staff and the general public taking part in a fun competition to encourage more people to ride, more often. This year, people will be awarded points for riding and encouraging others to ride too. There will be prizes a plenty!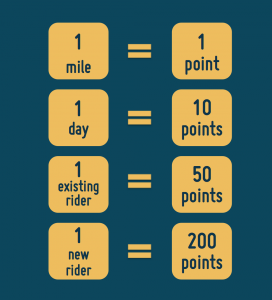 How your city can benefit?
Because this is a National Campaign, there are significant benefits and economies of scale that you can take advantage of.
The Challenge can help you to achieve your goals for cycling, promote your existing cycling initiatives to both existing and new riders, and collect valuable GPS data.
All UK councils are invited
Whatever your budget, you are invited to partner with us and promote the National Challenge in your area. If you do have budget, then we can really boost the results, outcomes and data for you.
Interested in learning more? Request some more information by emailing sam@lovetoride.net