We're really excited to be launching a new Department for Transport-funded pilot project with NUS and the Environmental Association of Universities and Colleges (EAUC). We're working with eight universities and leading behaviour change specialists to get more students and staff riding bikes and help achieve the government's goal of doubling cycling by 2025.

Earlier this year NUS surveyed 2,000 members about cycling, and the results were fascinating:
56% of respondents hadn't been on a bike for over a year, with women overrepresented in this group
45% were unaware of cycle training that was on offer at their institution
Those who do cycle overwhelmingly do so for transport and cite environmental reasons for riding (this is rarely the case with respondents to our surveys in other contexts)
30% of students who do have access to a bike don't use it at all, despite the most important factors when travelling to University being time, cost and convenience.
Not feeling safe is the most commonly cited barrier to cycling whilst at university
With these and many other insights into students' travel habits and attitudes towards cycling, we'll be working with our partners to devise interventions that help overcome barriers and get more students on bikes.
Project teams at each of the universities are soon to receive a batch of UniCycle t-shirts and a GoPro camera. We're working with them to devise ways to get students on bikes at the beginning of the academic year and we'll be convening in late October to share ideas and hold an ISM workshop with Andrew Darnton.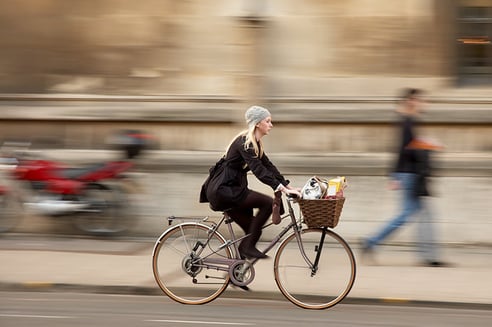 We'll be sharing insights from the project throughout the year. In the meantime, 80 universities are already taking part in Cycle September (and one of our cohort, the University of Sheffield, is currently out in front!) and every university and college in the UK is invited to join in to get more students and staff cycling.
Find out more and register here (it only takes a minute): lovetoride.net
If you'd like to find out more about UniCycle, including how to register your interest in good time for the 2018/9 programme, please email unicycle@lovetoride.org for more info.