We're delighted to welcome to the Love to Ride CityConnect team a brand new cycling ambassador. Since engaging with Love to Ride CityConnect when we launched in 2016, Rich 'Wozzy' Warren has been one of our star participants, winning the much-coveted, limited edition Chopper for his incredible effort in encouraging others to ride. Here's his story:
Everything's just fine… isn't it?
Seven years ago, I was obese, but that only came to mind whenever I looked at myself. Daily office (in)activity levels meant I could achieve everything I thought I wanted to do. However, as my son got old enough to walk then pedal a bike, I realised I needed to do more and I could be a much better role model for him.
False Start
I bought a bike through Cyclescheme thinking it would help me lose weight as I reminisced about a childhood of cycling everywhere. It turned out living halfway up a hill really knocks your motivation when you're overweight and unfit, so the bike very quickly ended up in the garage as a spider playground.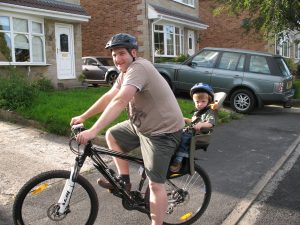 One important point to note that I have only really understood in recent times, is that I when I did ride, lots of people smiled. I used to envisage they were thinking "ha, a fat guy on a bike" but I nowadays realise it's really "good for you, I want to encourage you because you're making an effort".
0 to 6 miles
After a few years I decided to lose the weight through dieting then spruced up the bike and did a few local canal rides before considering riding to work. It probably took a month or more from thinking about commuting by bike to actually riding. It was easier to make an excuse than find out all the details about bike storage/access, changing/showers, clothing storage and probably impinging on existing rider's space.
Starting with the odd ride to work on nice sunny days through to a first full week probably took about 3 months. If I didn't ride, I would be in a lovely comfy car, listening to music whilst sat in traffic. However, bit by bit I'd notice cyclists more on the road and how they get to town way quicker. Also, as I became familiar with the route, I enjoyed it more and noticed how much cheaper the journey was - though the difference was soon spent on early-days bike accessories (lights, lock, jacket, shorts, bike upgrades).
After maybe 6 months or more I felt a traitor to be commuting by car so that was reserved for the days when you logistically can't help it - for me that was getting my son to hospital appointments.
Commute > Leisure > Challenge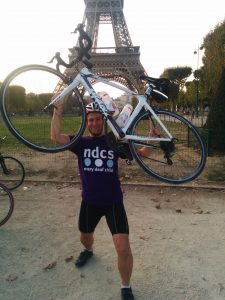 After around 9 months since first getting back to the bike, I decided I needed a road bike to do distance rather than the go-anywhere mountain bike. That changed everything. Within 4 months I did my first century, 9 months I rode London to Paris and 18 months later I was riding 200 miles Leeds - London solo non-stop.
My previous comprehension of distances had totally crumbled and the reality that you can get to places by bike rather than car was born.
The Bigger Picture
A couple of years of self-indulgence was enough for me - I'd used my zero-to-something for supporting charities. People were now getting used to me being 'a bit odd' plus the time needed to push further would have conflicted with my family life. Therefore, I switched focus to help others discover the joys of riding while I still remembered and had great empathy for what it takes to get going.
Love to Ride was the first platform I used for that specific purpose - I remember monitoring the encourager, distance, most rides and new rider league tables through Cycle September to try and keep our company near the top. We had a good existing base of cycling at the office so we used that to encourage others to come along.
Following Love to Ride's Cycle September, as a company we improved/enlarged the bike storage facilities and used prize vouchers to buy tools and other useful bits to support everyone riding in. The company remains one of the stronger ones in the area at each Love to Ride initiative!