Lord Mayor of Sheffield Magid Magid has taken his first ride on his new mayoral bike and vowed to encourage his fellow citizens to get on their bikes too.
"There are hundreds of benefits of cycling. It makes people healthy, it reduces air pollution but most importantly it just gets people active. It's good for your wellbeing, for your mental health, and it gives you a different perspective."
Cllr Magid has joined over 2,200 other local people on the free South Yorkshire Love to Ride cycling promotion scheme, and was presented with his new bike by Love to Ride supporter Russell Cutts of Russell's Bicycle Shed.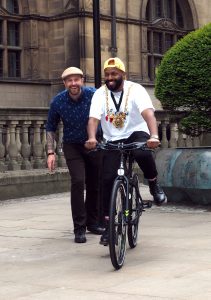 "Our new Lord Mayor is aiming to modernise the title, and what better way than using a bike for some of his everyday travel?" said Russell.
"We want to help Sheffield grow as a cycling city, and hope many more city leaders will be joining Love to Ride and leading by example by riding their bikes this year too."
As well as riding on the Sheffield to the Somme charity ride, the Lord Mayor intends to use his bike for short journeys during his year of office, and said he believes a modern bicycle fits in well with his desire to bring the role into the 21st century.
He said: "Riding a bike is not something of the past, it's the future. If everyone was riding bikes it would transform the whole city. If you look at all the other major cities around the world they're all getting people to ride bikes because they understand that's the way things are moving forward."