2018 has been an action-packed year for Love to Ride: our members have clocked up millions of miles and encouraged thousands of new riders to experience the joys and benefits of cycling, and we have worked with workplaces, governments and advocacy groups to get more people on bikes worldwide.
We've run national events in New Zealand, the UK and – for the first time – the USA, where we teamed up with the League of American Bicyclists to run the National Bike Challenge. Over 76,000 people took part in these national programs, joining the growing international movement to get more people on bikes and helping to introduce new riders to a simple, cheap and accessible way to become happier, healthier and wealthier.

This year our flagship workplace event, Cycle September, went global for the first time, with early adopters of our new Love to Ride for Business product taking part. Love to Ride for Business gives companies their own platform to help their staff switch to cycling for fun, fitness and transport, with friendly competition within and between offices to get more people on bikes. Find out more here.
We also completed a successful pilot in partnership with the National Union of Students and the Environmental Association of Universities and Colleges in the UK to get more staff and students cycling in further and higher education. The Department for Transport awarded us an Innovation Challenge Fund grant to work with six universities and we used cutting-edge behaviour change techniques to design impactful interventions on campuses. Find out more about it on the NUS's website here.

Wherever we work we are keen to support local bike shops. During Cycle September we gave away well over £10,000 of local bike shop vouchers in the UK and we're responding to feedback from members to develop a dedicated category for bike shops and other cycling organisations so they can compete with each other in 2019.
We have also launched a new clubs and groups feature, which allows cycling clubs, informal groups and larger organisations like football clubs to invite their members to register on Love to Ride. This is currently in Beta and we are inviting feedback to help us make it a great new feature of the site – look out for Cycling Club league tables and the opportunity to ride for your beloved football club!
But our whistle-stop tour of 2018 on two wheels isn't over yet… In December we'll be running our hugely popular Winter Wheelers promo for the third time. We are delighted to welcome back our brilliant sponsors from 2017, Proviz, Beryl (formerly Blaze) and Torch – and to announce that Muc-Off will be offering top-notch bike cleaning kit this year too!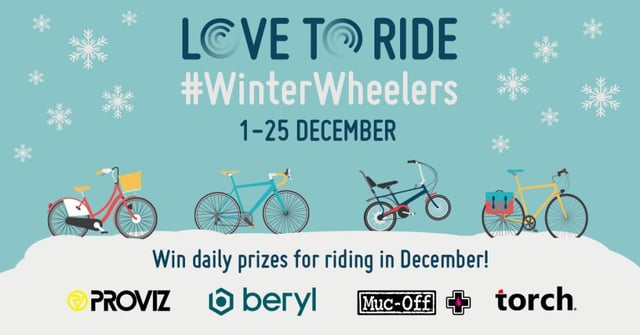 As well as top-notch gear to help you keep riding through the winter, we'll be giving away a £500 local bike shop voucher to one lucky winner who logs a ride on Sunday 16 December and a £750 voucher will be drawn on Christmas Day from everyone that logs a ride between 1 and 25 December!
Although prizes are restricted to members in funded areas or at workplaces or universities that have bought into our programs, everyone who registers and records a ride will be eligible for huge discounts from our sponsors – so make sure you join today to bag some bargainous winter cycling gear from the best brands in the business!
If you'd like to incentivise your colleagues to ride in during December, we have teamed up with VitaLife to offer a Boxed Bike Breakfast for twenty people for just £50 – it's full of warming winter bike fuel like porridge pots and is a great way to celebrate and reward riding to work in winter.
We hope you've had a great year on two wheels so far and we look forward to riding through the winter with you! Keep in touch via Facebook and Twitter, or drop us a line if you have any questions: support@lovetoride.org