Whether you're from Moray or Monmouthshire, Brighton or Birmingham, you're invited to experience the freedom of two wheels and help others to discover the joys and benefits of cycling.
Cycling is fun, practically free, easy and it's so good for you too: people who ride to work are far less likely to suffer from cancer or heart disease and if more people get around by bike our air will be cleaner, saving lives and making our towns and cities greener and more liveable.
Cycling UK provide free insurance for all events listed on the Bike Week website, so take a look to find out what's on in your area or start planning your own event (we've got some handy tips to help you run a bike breakfast here).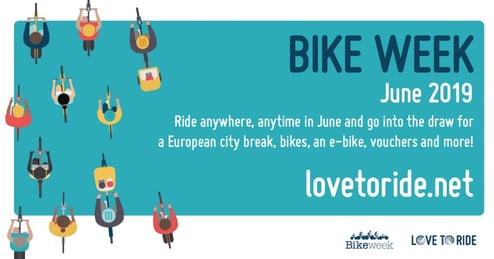 The theme for 2019 is #7DaysofCycling - we'll be inviting all Love to Ride members to try and ride seven times during Bike Week (8-16 June) and we'll be sharing different cycling experiences using the hashtag and our new Stories feature to celebrate:
Enjoying the social side of cycling
Cycling to school and engaging children in cycling
The mental health benefits of cycling
Businesses boosting their cycle-friendliness
Favourite three-miles - best short routes by bike
Getting fit and healthy through cycling
Travelling from A-B by bike
There are no rules on what counts as one of your seven - from riding to work to cycling to the shops; from giving your bike a spring clean to joining a cycle club - all you need to do is share a photo, video or story about your experience on Love to Ride or via social media on Facebook, Instagram or Twitter, using the #7DaysofCycling hashtag.
As usual the Love to Ride team have grabbed a great bundle of prizes - to match each daily theme - such as a UK cycling holiday for two on day 1, a couple of bikes, a fab Blubel navigation prize and much more besides.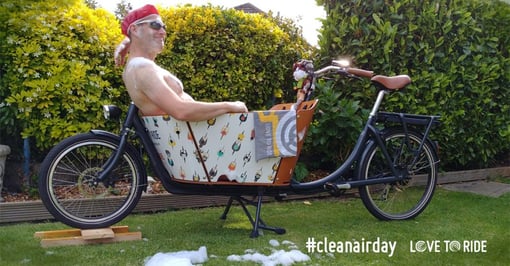 And with #cleanairday during June too, we're giving away an e-bike to one lucky winner who logs a ride for transport on 20 June.
And as if all that wasn't quite enough, our partners Cyclescheme are bringing even more to the party with prize giveaways on their community platform.
So to sum up, this really is our best Bike Week ever - so come on over and and join in the fun! lovetoride.net