In 2019, we were blown away with the record breaking results we achieved in New Zealand with our Aotearoa Bike Challenge, it was our most successful program ever with 22,000 people taking part!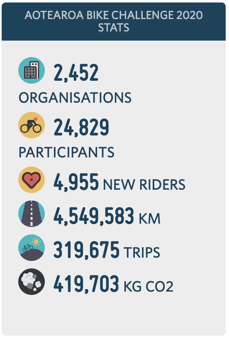 In 2020, the Challenge got even bigger, making it again, our most successful challenge.
With almost 25,000 participants competing from over 2,400 businesses across New Zealand, our clients were very happy with these numbers.
In Christchurch they had 6,126 participants which equates to 3% of the working age population taking part in the program!
CONSISTENCY IS KEY
The challenge is now in its 4th consecutive year and we've been seeing outstanding year on year growth since its commencement. This kind of repeat activity has returned real benefits, as it's meant we can continue to build awareness and engagement in the community. The event is now a keenly anticipated on the calendar each year.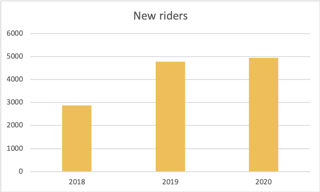 With a 26% increase in organisation numbers from last year, the challenge attracted 507 new businesses to join in. Whilst the growth in participants numbers illustrates new audiences are joining the challenge, we are also deepening our reach within organisations and people who participated previously, with more staff members joining their teammates each year!
THE BUDDY INFLUENCE
Enabling regular riders to recruit their friends and colleagues to go for a ride is at the core of the work we do at Love to Ride. This year's New Zealand challenge included a heavier focus on the 'encourager' message with its own dedicated prize pool and leader board. The result? During February, there were 10,870 acts of encouragement, proving that when we provide regular riders the tools to make it fun and easy to encourage others to ride, they will!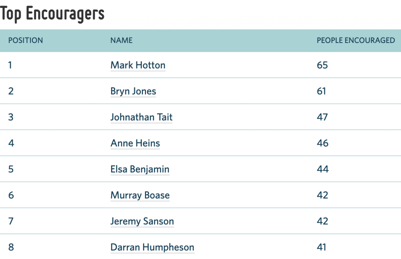 "I took my spare bike to work and left it there so I could accompany new riders riding at lunchtime down the cul-de-sac. New people are genuinely fearful of riding close to the road. Many I encouraged had not ridden for many years and for some 4 decades…


For Neville Rogers, I repaired his exercycle in January so he could train up to ride up Takaka Hill to celebrate his 67th birthday on a tandem. Neville is blind"


Bryn Jones - #2 Encourager nationally

REGIONAL OWNERSHIP
The Aotearoa Bike Challenge operates at a national level, and we also work with regions within New Zealand who have chosen to deliver a localized version of the Love to Ride site in their area. This provides more ownership to our partners by enabling them to communicate their own local content to people in their community, like bike routes, community events and prizes to drive participation for the challenge. This also gives our partners access to anonymized data, crucial to the continued development of active travel planning.
Regions with a local site (see the bars coloured yellow), had the greatest levels of participation: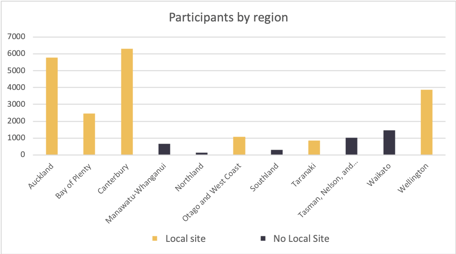 EVERYONE IS WELCOME TO TAKE PART
Overall there is a fairly even gender split, which is a sign that the Challenge is generally appealing to everyone.
It's interesting to see in the major cities (Auckland, Canterbury and Wellington) that there is a higher number of male riders participating, possibly due to the current perception of how bike-friendly the city environment is among female riders compared to riding in smaller towns and rural areas.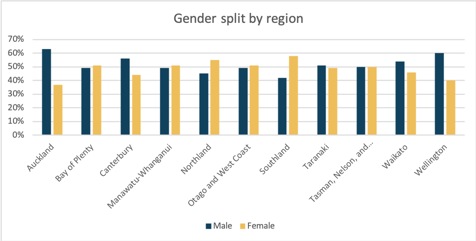 The recent Aotearoa Bike Challenge was our most successful yet with a 26% increase in the number of organisations taking part and a 13% increase in individuals riding. Love to Ride has been solutions-focused and really easy to work with. They helped us to deliver on our objective of increasing the number of people cycling.'

Jamie Sitzia, Principal Advisor, Waka Kotahi NZ Transport Agency
It's clear from this case-study that the Workplace Bike Challenge program has again been very successful.
Interested in getting a successful biking encouragement program running in your area? Get in touch and we'll send you some more information and examples: hello@lovetoride.net