Social prescribing is a holistic approach to health and wellbeing. Through this system, people facing a range of challenges are connected up with community groups and services which provide them with practical and emotional support. We're big fans of this approach, and love the work that Ride On are doing with this in Exeter.
Ride On – Cycling for All recycles unwanted bicycles and helps make cycling safe, enjoyable, and accessible to everyone. The aim of Ride On is to get more people on affordable bikes, whilst offering education and training to keep them on the move, improve mental and physical health and wellbeing and contribute to a reduction in CO2 emissions.
Ride On has teamed up with the Devon Community Forensic Team, who are part of Devon Partnership NHS Trust, to offer social group outdoor physical activity for the people who use their service.
The Community Forensic Team support people who are being discharged from a secure hospital and to help them develop their independence and community living skills. Those attending the weekly cycle group have been discharged from hospital and are living in the community.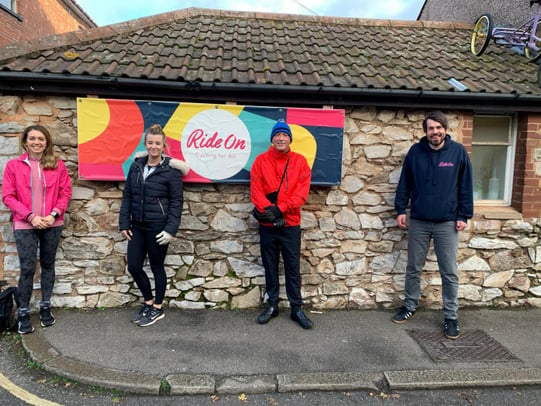 The groups are led by Chloe Rosser and Amy Burdett, who are both Senior Occupational Therapists and Brendon Pollard, a Peer Support Worker. They accompany between four and six patients each week. They are given access to bikes and ride as a group along the riverside path and cycle trails, always stopping off somewhere for a coffee. Chloe, Amy, and Brendon plan the weekly agenda and co-ordinate who will be facilitating the group.
Before the coronavirus lockdowns, the Ride On team led the weekly bike rides and the patients were also given bike maintenance tuition in the Ride On workshop.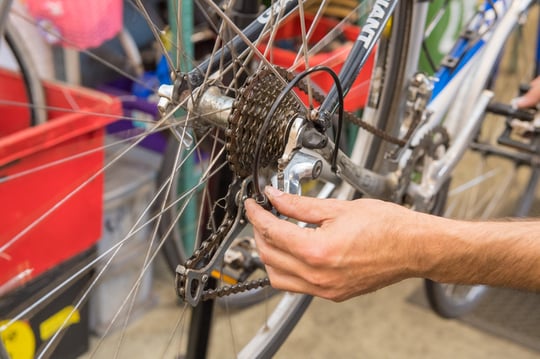 "We work with men whose ages range from 24 – 60 - although they are mainly in the 25 – 35 age range - supporting them so that they can be discharged from hospital," explains Chloe. "We help them find accommodation and peer support groups so they can rebuild their lives in the community."
The cycling group is playing a massive part in rehabilitating the Community Forensic Team clients, who previously had no support. In fact, since the first coronavirus lockdown it's become the highlight of the week for many, as gyms are closed and their physical activity reduced. Chloe and Brendon find that the cycling is a good way to motivate the patients to push themselves.
"They want to ride, and they are enjoying themselves," adds Chloe. "And thanks to funding from Active Devon we have been able to buy essential equipment such as waterproofs, gloves and lights.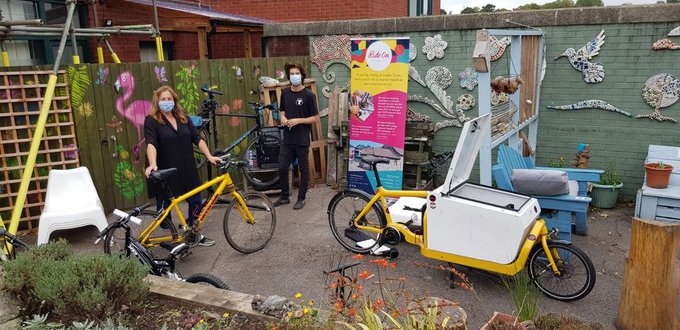 "Ride On has been extremely proactive: adapting bikes for us and performing risk assessments, as well as dealing with insurance for group rides and helping us access funding," says Chloe, who was responsible for most of the pre-work and admin for the project.
"If it weren't for Ride On we would not have been able to set up the group as our patients do not have their own bikes. The cycle group, along with other leisure activities that they enjoy, such as fishing, metal detecting and walking are all social experiences that enhance their recovery."
"We're really enjoying working with the NHS and their patients on this project, and to clearly see the impact that it's having on their lives. The happiness on the faces of the riders when they come back into our yard is a joy to see. So many people across Devon could benefit from discovering the freedom that cycling can bring; we would be very keen to help more projects like this get started." - Will Page, Head of Charity at Ride On
Find out more about Ride On - Cycling for All at: