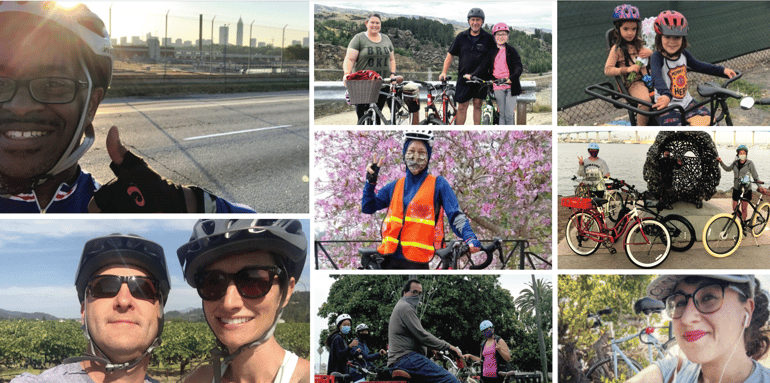 While many local Bike Month programs and events were cancelled last year, cities with Love to Ride programs saw some of their best ever results. From Madison with a 15% increase to San Diego who saw a 245% increase in participation in their Bike Month programs.

Love to Ride provides an effective and safe way to deliver biking programs in the Covid-19 era. With an online biking program you can be secure in the knowledge that your Bike Month will go ahead this year.
Hear how other cities biked to success last May despite their constraints due to Covid. 👇
7 Reasons to Work with Love to Ride this Bike Month
1️⃣ Get more people on bikes and grow your riding community!
Give new riders access to the tools they need to build their confidence
Mobilize your existing riders - we make it easy and fun for them to encourage and support their co-workers, friends and family to ride too
Reach new audiences - boost the reach and effectiveness of your existing TDM programs
2️⃣ It is a safe program to run in the Coronavirus Era
Whatever the world throws at us this May, from new coronavirus variants to crazy weather, with an online program you can rest assured that your Bike Month event can go ahead because it is inherently socially distanced and not reliant on having good weather on one particular day.

3️⃣ Easy to Run
We provide you with everything you need, including promotional materials, templates, and easy to follow guidance so you can quickly get your Bike Month program up and running. You just plug and play.

4️⃣ Improve biking safety in your city
We have online bike safety courses that make it quick, easy, and fun for people to gain the knowledge and skills to ride safely and confidently.

5️⃣ Get great data
We'll provide you with measurable outcomes such as total number of people and businesses engaged, number of 'new riders' who are now biking regularly, barriers people face to riding, commute trip stats, CO2 saved, and more!

6️⃣ Localized
We'll work with you to adapt and localize your Love to Ride Bike Month campaign for your community.

7️⃣ It's fun
We focus on making the experience of participating in a Love to Ride program enjoyable. It's one of the main reasons we've been so successful over the years at engaging and encouraging more people to ride bikes.
Want to keep this information handy?
Download the PDF of Running a Safe and Effective Bike Month 2021.

To find out more, ask questions, and discover your options, please contact Laura Cisneros: laura@lovetoride.net