For our Supporting More Women to Ride webinar we hosted an expert panel of women who work in or are passionate about cycling.
Each shared their unique insights, fantastic data and projects and programmes in Scotland to support women to cycle more often and more confidently. Joining us was:
Fleur Ammerlaan - Insights Manager, Love to Ride
Natalie Cozzolino - Monitoring & Development Officer, Cycling Scotland
Tierney Lovell - Inclusive Design Manager, Sustrans
Adele Brennan - Coordinator, Strathaven Breeze Birds and Owner, Bike Barn
Click below to watch the webinar.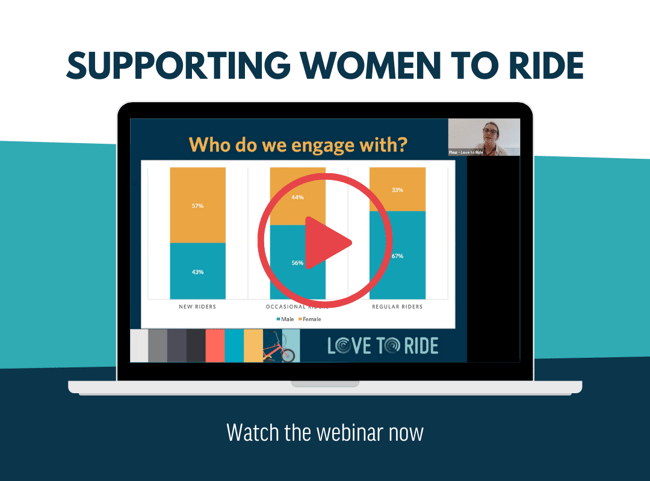 As promised here are the resources provided by our panel!
Events and Campaigns:
Bike Month - Love to Ride - Bike Month is a celebration of biking that aims to encourage and support you, your friends, family and community to get out and ride. Summer is the best time to promote all the benefits of riding a bike - the weather is at its best and the days are getting longer. It provides the ideal conditions to encourage everyone to enjoy activities that are good for our physical and mental health and keep us connected with the world around us. Join us for Bike Month this June!
#AndSheCycles - Sustrans - September - supporting girls and young women to cycle
Pedal to Empower Campaign - World Bicycle Relief - 5th June - cycle and help provide women and girls in need with life-changing bicycles!
Women's Festival of Cycling - Cycling UK - 11-31st July
Case Studies:
Sustrans - Bikelife Report: Reducing the Gender Gap
Sustrans - Cycling for Everyone Report
Local Cycling Groups:
Belles on Bikes> - Cycling UK Scotland - A network of inclusive cycling groups in Scotland
Breeze Bikes - British Cycling
Find your local cycling club - Scottish Cycling