Whether you're new to cycling, or just getting back in the saddle after a break, it's easy to get carried away with the pure, endomorphic rush of the ride, and forget about more mundane practicalities.
Like not having your bike stolen when you get where you're going!
Effective bicycle security can be complicated and confusing for new cyclists, but here are four easy to remember rules, which we should all follow...
1. Do not lock your bike with a cable lock
Cable locks seem great, don't they?
They're light, so they're easy to carry. They're long and flexible, so they're easy to fasten around your bike. And best of all, they're really cheap, which is especially attractive if you've just shelled out a load of money out on a new bike!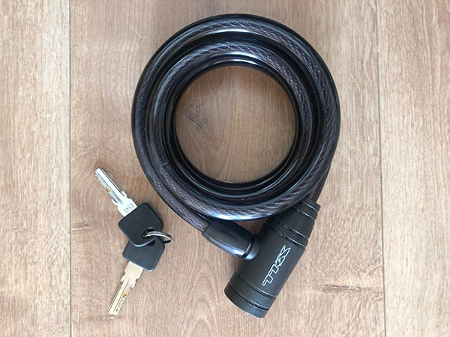 Cable locks like this will not protect your bike: don't use them!
But the truth is: those cable locks are cheap because they're rubbish. They won't protect your bike.
Cable locks are made from long, thin strands of metal that can be cut through in seconds by hand held wire cutters. And the one tool that all bike thieves carry? Hand held wire cutters! Thieves specifically target bikes secured with cable locks, because they're so easy to defeat.
The one, indisputable truth of bicycle security is this: if you lock your bike with a cable lock, it will be stolen! It's just a matter of when. So use a decent bike lock instead...
2. Lock your bike with a Sold Secure rated bike lock
Look for bike locks that are rated by Sold Secure, an independent organisation that tests and ranks locks according to how secure they are. They award locks one of four ratings: Bronze (least secure), Silver, Gold or Diamond (most secure).

Sold Secure rate bike locks from Bronze to Diamond (least to most secure)
If your circumstances are low risk, then a Silver rated lock may provide enough security. But there are so many Gold rated locks around these days, that you should be able to find one that works well for you.
It's not just about security though. A decent bike lock has also got to be easy to use. Because if it's not, you'll get frustrated and stop using it or even stop riding your bike altogether.
A good guide will take you through a step by step process to find a lock that's both secure enough for your individual circumstances and practical for day to day use.
However if you can't be bothered with reading all that, I recommend you go for either a Gold rated standard size u-lock, or a Gold rated folding lock as they'll provide a nice balance of security and usability for most people.
3. Learn how to lock your bike properly
A decent lock will only do it's job if you use it properly. This means always locking the frame of your bike to an immovable object (like a secure bike stand).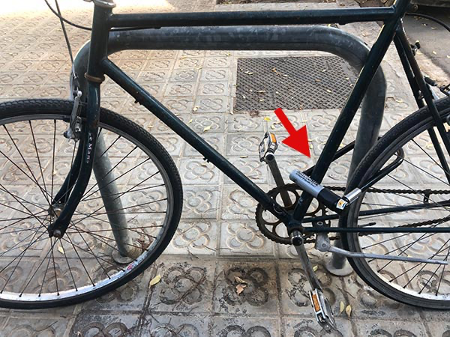 Make sure you always lock your frame to the bike stand
If you just put the lock around a wheel and the bike stand, a thief will simply detach your bike from the locked wheel and walk off with a one wheeled bike (leaving the other wheel attached to the stand by the lock).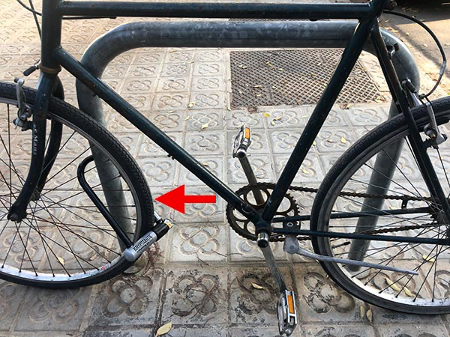 If you only lock your wheel to the bike stand...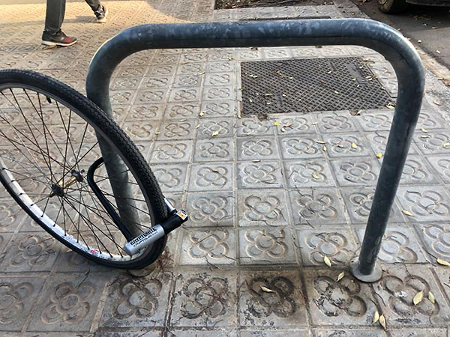 ..a thief will simply unscrew your wheel and walk off with your bike
So always double check this when you lock your bike up. As you walk away, ask yourself: "have I locked the frame to the rack?". It's easy to get it wrong, even when you know what you should be doing!
But what about your wheels? And your seat? Thieves will take those too. And one lock isn't enough to keep them all protected. You can use a supplementary cable lasso with your main lock to protect these. But there are other methods too.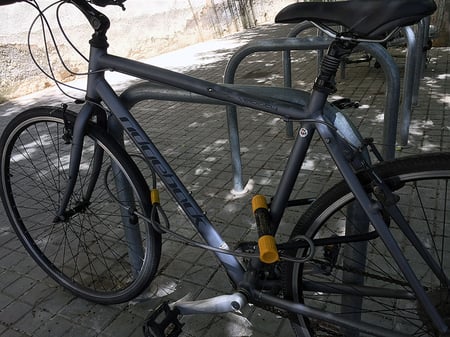 The only acceptable way to use a cable lock!
Again, a good guide will explain all the different ways you can lock your bike properly and the different ways you can protect your wheels and seats as well.
But the most important thing is: always secure your bike frame to the immovable object with your primary lock!
4. Lock your bike at home too
Don't presume your bike is safe at home, because unfortunately it isn't! Over 50% of stolen bikes are actually taken from the owners home (this includes gardens, shed and garages, as well as the dwelling).
If you can keep your bike inside your house or flat, then you're on safer ground. But for most of us, this just isn't practical.
So whether you leave your bike under a cover in the garden or yard, tucked away in a shed or propped up in the garage, you must secure it to something.
Now I know this is annoying because the chances are you haven't got anything obvious to lock your bike to!
But believe me, it's much easier for a thief to bust open the average shed door and walk off with an unlocked bike, than it is to cut through a Gold rated lock in the street. So try to find something.
You can fit a ground anchor into a concrete floor (or earth), a shackle in a wooden shed and there are also secure bike hangers. You could even lock your bike to a heavy kettle bell or an old u-lock, half submerged in a bucket of concrete!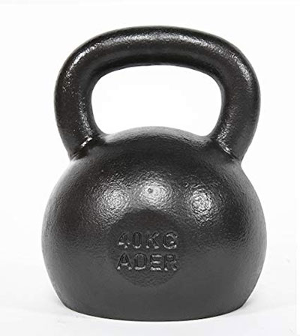 You could lock your bike to a heavy kettle bell at home!
What's important is that you secure your bike to something that will stop a thief simply carrying it away.
Check out thebestbikelock.com for more detailed information and a step-by-step guide to choosing the right bike lock for you.